A podcast to go beyond the headlines. Economic, political and social analysis on Cyprus by Fiona Mullen, Director of Sapienta Economics.
Fiona hosts respected names & specialists and relies on facts, figures and statistics as a way of myth-busting issues in her Figure It podcast.
All episodes: https://islandtalks.fm/series/fi/
Cold, hard, truth from the divided capital of Cyprus.
Andromachi Sophocleous & Kemal Baykallı, two peace activists/political analysts from the island of Cyprus, provide a unique and informed perspective on Cyprus-related politics, undoing official narratives dominating the discussion when it comes to Cyprus.
According to Chartable statistics, Nicosia Uncut is the most listened political podcast in Cyprus.
All episodes: https://islandtalks.fm/series/nu/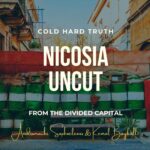 Evren İnançoğlu, Kemal Baykallı ve Sertaç Sonan; Lefkoşa, Kıbrıs'tan podcast'lıyorlar. 2014 yılında başlayan Garip Zamanlar macerası; insanlık hallerini, yeni çağın garip durumlarını, sosyal medyayı, popüler tarihi, sinemayı, siyaseti, edebiyatı, toplumsal hayatı ve farklı sanat dallarını irdeliyor. 
Garip Zamanlar, 2021 yılında Kıbrıs'ta "Yeni Medya" ödülleri altında yapılan oylamada yılın en iyi podcastı kategorisinde Altın Karga ödülünü kazandı.
Tüm bölümler: https://islandtalks.fm/series/gz/
A podcast from the alternate Cypriot universe – by Esra Aygın & Yiorgos Kakouris
A Cyprus podcast.
News commentary and political satire from both parts of the island by two Cypriot journalists from the two communities of Cyprus.
Legendary introductions by Yiorgos at the beginning of each episode!
All episodes: https://islandtalks.fm/series/bu/