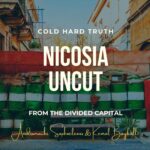 "Isn't it amazing that you are marching against the corruption and we are marching against Turkey's intervention into Turkish Cypriot politics, in fact, the Cyprus problem is the source of all.."
Andromachi Sophocleous and Kemal Baykallı continue to bring you the latest update from the divided capital, providing you a Cypriot perspective from the island of Cypriots.
00:00 Introduction
01:00 Should we expect a new policy towards Cyprus after the US elections?
04:55 Biggest right-wing TC political party could not choose a leader
14:20 Turkish Cypriots are organizing a protest, what do they want?
16.14 Greek Cypriots are marching against corruption