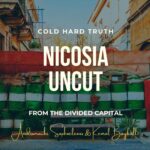 Difficult times for Ukraine and for the world peace in general! While Russia's attack on Ukraine continues to create a humanitarian tragedy in the heart of Europe, there are lessons for Cypriots who are living in a frozen conflict on the island. In this episode of Nicosia Uncut, Andromachi Sophocleous and Kemal Baykallı discuss how the war in Ukraine must teach the Cypriots the need to end their own conflict since they have been living on a powder keg for many decades. Harsh statements by the Russian Ambassador in Nicosia, upon the decision of the Republic of Cyprus to close its airspace as this is also a common decision of the EU, created a resentment among various circles. Anastasiades government, however, is trying to go below the radar instead of taking a determined position against the Russian invasion.
Click here for UniteCyprusNow Press Release on the topic.
Click here for "Decode Cyprus" podcast episode that draws parallels between Ukraine and Cyprus.