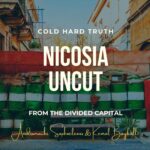 What a mess! Cyprus found itself it the heart of a diplomatic mess in the area of international relations, multiple interests are at stake. Turkish Cypriots experienced panic with the rise of number of new Covid-19 cases eventually cancelling all commercial flights. And how will this affect the elections? Andromachi Sophocleous and Kemal Baykalli are trying to make sense in the middle of a chaotic mess!
00:00 Welcome and introduction
02:00 Cyprus, EU and sanctions for Belarus
03:30 Where is Russia in this equation?
05:30 Public opinion towards the RoC foreign policy
06:35 What shapes the European perception towards Cyprus?
09:11 The potential developments from now on
11:38 Where are the Turkish Cypriots in this? And the current priorities.
12:44 Latest panic regarding Covid-19
21:40 Feedback by our listener on the EU's role in Cyprob.