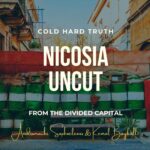 Podcast from the divided capital of Cyprus. In this episode, Andromachi Sophocleous provides an insight on the latest EU Council Meeting, expectations of the Republic of Cyprus, use of veto to block sanctions against Belarus, reference of the resumption of Cyprus problem talks and how whole saga was reflected on the Greek Cypriot press. First round of elections will take place on the 11th of October in the north, Kemal Baykallı discusses the campaigns, leading candidates, main issues and the role of Turkey in the elections. Listen it from the locals!
00.00 Introduction
01.40 What was Republic of Cyprus' strategy at the summit?
03.20 EU's reaction to Cyprus' position
04:10 Veto is a double-edged sword
07.12 Reflections on the Greek Cypriot press: EU Summit and Greco-Turkish talks
09.52 Turkish-Greek relations within the context of NATO and the EU
11:00 Where is Cyprus problem in all that? Demolishing the myths
17:00 Why are the Turkish Cypriot elections crucial? What are the main discussion topics?
20:00 TV debate of the main candidates
22:00 How Turkey's interference in the elections is backfiring.
24:40 Potential names for the second round, expected turnout
27.38 Voting patterns and Christophoros Christophorou's study on groups